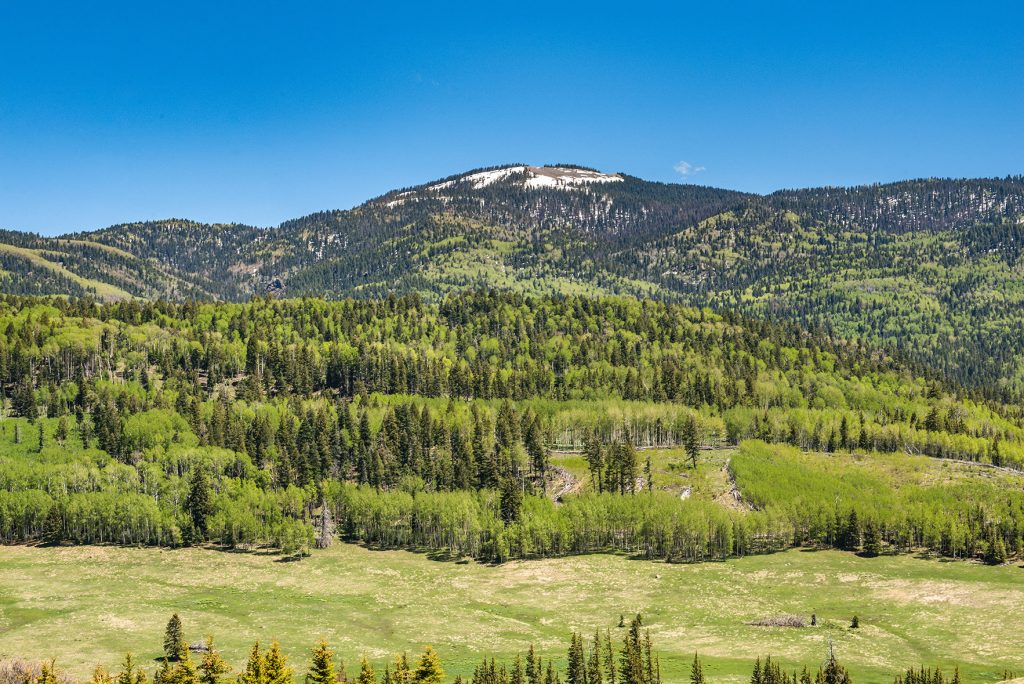 Rancho del Oso Pardo, located five miles northeast of Chama, NM in the spectacular Chama Valley with elevations ranging from 8,000 to 11,000 feet, offers one the opportunity to own a fractional ownership interest and private cabin in an extraordinary 17,000+ acre ranch in northern New Mexico and southern Colorado.  Many describe Rancho del Oso Pardo as the most beautiful land not in the public domain. With 7 miles and both sides of the Rio Chama providing 14 stream "beats" and 11 alpine lakes, fishing for legendary wild rainbow and brown trout, hunting, hiking, horseback riding, and wildlife experiences are the finest available in the Rocky Mountains. Internally managed and maintained, Rancho del Oso Pardo is home to an annual elk migration, and provides sweeping meadows, timbered trails, and high-altitude vistas, all of which offer one solitude, enchantment, and enrichment unparalleled and unsurpassed anywhere else.
Introduction and Vision Statement: Formed and incorporated to preserve and protect a large wilderness track in the upper Chama Valley of New Mexico, Rancho del Oso Pardo is a private hunting and fishing preserve and wilderness retreat for the use and enjoyment of its member Shareholders with their families and friends. A fundamental intention is to provide visitors to the ranch the feeling that they are alone in a private place, uninterrupted from intrusions of modern life. This objective must be balanced with the importance of responsible land and wildlife management and the need to minimize human impact on the fragile rhythms of the mountain ecosystem.  In order to protect the ranch's serene, private and unspoiled atmosphere, the Board of Directors has voted that Shareholders will be governed by usage policies and rules.   Usage rules are the only effective way to protect the wonderful experience all enjoy – the magnificent fall migration and mating of the elk, the accessibility of a world-class hunting and fishing preserve, or the relaxation of a long weekend unshared with strangers. Usage policies are necessary to protect all Shareholders' interests equitably.  Therefore, it is requested that Shareholders adhere to these policies and rules at all times and ensure that accompanying family members and guests adhere to them as well.  Collectively, we have adopted these rules out of respect for fellow Shareholders, to protect this wonderful ranch, and to engender responsible land stewardship for generations to come.
Thank you.
– Rancho del Oso Pardo Board of Directors
Governance:  Rancho del Oso Pardo, Inc. is a privately-held fishing, hiking, and wildlife ranch and an "S" corporation formed in 1983 for the enjoyment of a small group of individuals and their families from across the country.  Shareholdings are held through units, of which there are 32. However, a number of Shareholders own multiple units resulting in only 19 Shareholders, the vast majority of whom have been owners for decades. The ranch is governed by a Board of Directors, comprised of three members and each unit is entitled to one vote on all matters submitted by the Board to Shareholders.
Usage:  The ranch is available for the quiet enjoyment of Shareholders, friends and family.  Visitation is possible year round, although access during the winter is limited to snowshoeing and cross country skiing. Primary season for the ranch is June to October with September and October comprising the hunting season. Throughout the year, any and all Shareholder visits, lodging and activities on the ranch are governed by a Shareholder-approved set of "Shareholder Usage Rules and Policies".  Such rules and policies are administered year-round by the professional, long-term senior ranch managers who work and reside on the ranch. Despite being a multi-Shareholder owned ranch, due to the size of the ranch, dispersion of accommodations and professional oversight of usage policies, actual visits to the ranch are more characteristic of one that is privately owned and professionally managed.
Lodging:  Lodging at Rancho del Oso Pardo is beautiful and comfortable and is solely available for Shareholder use.  Rancho del Oso Pardo does not operate as a "guest ranch" and usage policies do not permit large groups or business activities of any kind.  Diverse accommodations are available to Shareholders. These include three "fixed" facilities(the Lodge, Hillside Cabin and Lobo Cabins) and two riverside "tented" options (Riverside and Stateline). In addition, there are only three Shareholder owned cabins. A full time housekeeping staff services on a daily basis both ranch and privately owned accommodations. Private cabin owners have access to the ranch at anytime and need only notify ranch management of dates of their visits. Otherwise, cabin owners adhere to all other usage policies.
Activities:  The Shareholders, comprised of individual families from various and diverse parts of the US, have come together with Rancho del Oso Pardo as a group of deeply committed, generational stewards of this pristine, magnificent track of wilderness.  Consistent with this objective, time at the ranch is intended to be for the quiet, private enjoyment of the Shareholder's family and friends. There are no planned activities at the ranch and daily activity is purely at the discretion of the Shareholder.
Habitat: Birds, black bears, elk, mule deer, mountain lions, bighorn sheep, coyotes, and numerous species of trees, shrubs, wildflowers, and insects.
Video:
Opportunity: Individual Shareholder Units are available for resale purchase from existing owners at $1,875,000.  Annual assessments for a Shareholder Unit are currently $26,000 which covers all prorata operating and capital costs of the ranch.